DOMO® Fusion Grass
The better reinforced grass solution
DOMO® Sports Grass hybrid turf solution stands for the perfect fusion of artificial with natural grass. Not only does our hybrid grass pitch offer excellent feel and playing quality, it also raises the playing time by up to 800 hours per season in good conditions. Unlike other hybrid grass systems, our stabilized turf can be installed and maintained in a more flexible manner. In this way, football players can enjoy all benefits of both types of turf, natural and artificial.
A Perfect Match

What sets our hybrid grass systems apart from the others is the clever use of natural grass blades with artificial fibers. By choosing a mix with natural grass, the playing quality and feel remain the same as on a standard natural grass pitch. Thanks to the artificial strengthening of the individual blades (through spiral-shaped Heliflex yarns), playing hours on the stabilized turf are greatly extended.

More Hours to Play

An all natural grass pitch has a life span of approximately 300 to 400 hours per season. By moving to hybrid grass, these numbers can easily be raised to 800 hours per season. Moreover, reinforced grass is significantly less prone to playing damage. As a result, DOMO® Fusion Grass allows you to host more activities and competitions per season.

Tailored Installation

Our hybrid turf offers a specially designed open backing with tufted grass yarns. Consequently, the field can be easily installed on a regular pitch base by means of the same equipment used with standard natural grass.
The key to success
DOMO® Fusion Grass, Facts & Features
Our artificial turf DOMO® Fusion Grass not only protects the natural grass blades, crown and roots, it also stabilizes the soil. The system allows the roots to grow thick, deep and unhindered. All this has been made possible by combining 3 unique components:
Thanks to a unique type of yarn in the backing, the hybrid grass surface offers superb tensile strength and doesn't shift horizontally or vertically. The backing of our reinforced grass system is characterized by its special open design, in order to carry out 4 critical functions:
Allow full permeability for water and the natural grass roots (no formation of layers) 

Retain excellent pile anchorage 

Protect the artificial grass blades
Allows aeration without damaging the backing, resulting in the longevity of the hybrid system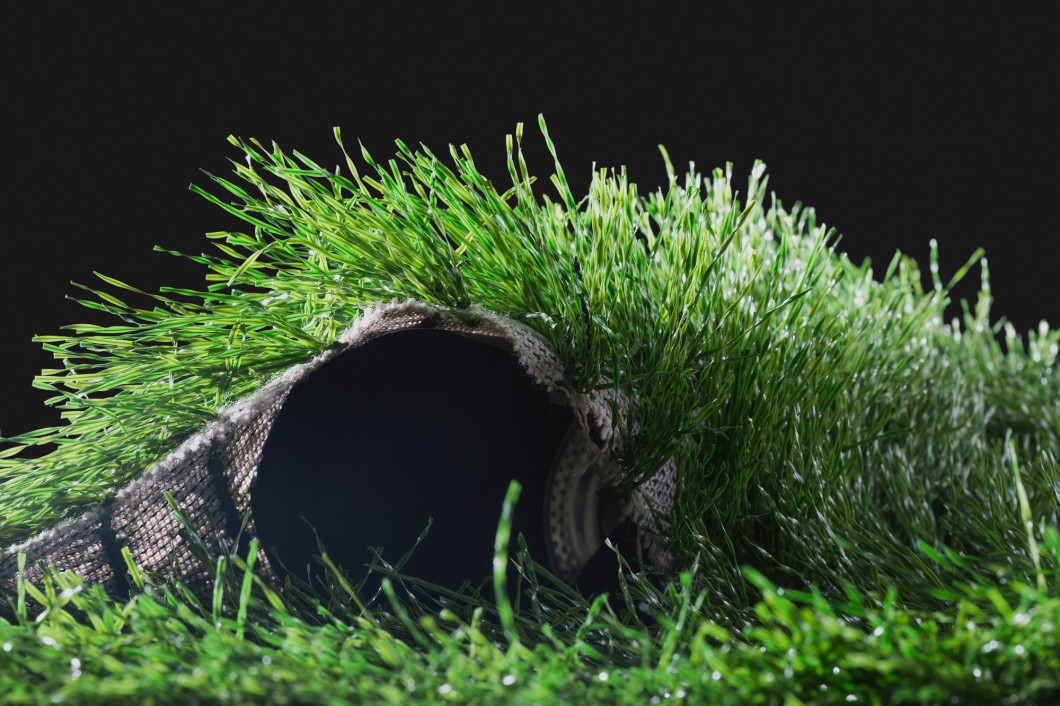 The aim of our R&D Department was to develop a rich and fertile soil mix. The soil is a well balanced mixture of sand and high-tech components with improved water and nutritient retaining capacities. The roots can freely absorb the water, so less nutrients need to be added. Both the fertilization process and your maintenance labour become a lot cheaper and simpler.
An advanced hightech ingredient also allows more air into the subsoil and offers a better shock absorption. Because of the increased air porosity, there is no longer a problem of over-compaction. And the better the soil, the healthier the natural grass.
The core of our hybrid grass system is its unique spiral fibre, based on our proven Heliflex technology. The spiral-shaped yarns make sure there is superb bonding with the grass roots and ensure a high wear resistance and resilience.
As soon as pressure is exerted, the yarn first comes under tension and then jumps back upright. The presence of advanced polymers allows a soft-touch playing field, immune to sliding tackles and extreme weather conditions. Moreover, the tips of the artificial grass ensure real-life ball behaviour. Even the best players won't notice they are playing on a hybrid turf.
Ready for kick-off?
Contact us for more information